Posted on June 24, 2009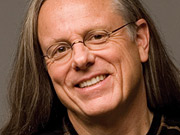 Jeff Goodby's rant in Adweek about "ghost ads" and Cannes Lions basically speaks for itself.
I understand his position…actually, I think that I kind of agree with it.
I suppose the bigger question for me is why clients don't buy the "ghost ad" work? Why is the best work…the work that doesn't run? Is is too edgy? Disruptive? Too risky?
Gaming the "Awards Game" doesn't surprise me. Creative thinkers will always find a way to game the system.
The tragedy is that some of the best work…never gets to see the light of day.
Posted on June 17, 2009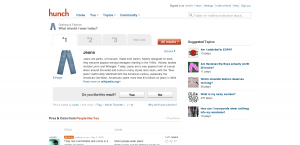 After spending more time with Hunch, I began to realize its power…not as a search engine…or as a social network…but as a "recommendation engine". As more members join, the power of its crowd-sourced wisdom grows exponentially. It becomes a super-Digg focused not on what's cool…but rather on what matters. If the need to get information to make decisions is at the core of most Internet searches (as I believe they are)…then Catarina Fake and company are really onto something.
Hunch is fun when you are asking a question like "should I ride my bike to work"…but it becomes incredibly powerful when it is answering the question "where should I get my car serviced?" or "what management consulting firm should I hire?".
I am still not certain how they will monetize Hunch…other than by providing paid subscriptions or perhaps advertising opportunities (but that's just a hunch).
Posted on June 16, 2009

Hunch.com launched yesterday. The brainchild of Flickr founder Catarina Fake, Hunch is a mash-up of social networking and a decision-making algorithm from MIT's media lab. After playing around with Hunch for a few hours, we have a hunch that Hunch just might be onto something. Both the LA Times and Fast Company agree.
It is a community…that is centered on a single common need…that gets smarter with every question posed.  Sounds a bit like one of Peacock Nine's Customer Cabinets.  BuzzSponge anyone?
From BING…to Hunch—interest in crowd-sourced decision-making is warming up.
We couldn't be happier about that.
Posted on June 16, 2009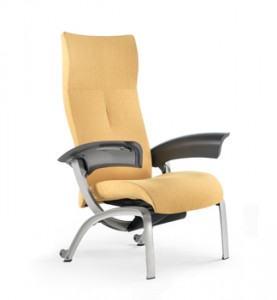 I just returned from NeoCon about fifteen minutes ago. While I was there, I checked out the furniture company Brandrud, which was recently acquired by Herman Miller.
Of all of the exciting new pieces I saw throughout NeoCon, I was most excited by Brandrud's Nala patient chair. I love it not for the aesthetics…but because it was a piece of furniture that was so clearly designed with the customer's need in mind. (In this case "customer"= patient + nurse).
With the pull of a lever, the Nala chair rocks to a 60% angle. This is a godsend for both nurse and patient as it moves the patient's center of gravity forward…making it easier to help them get up out of their chair. Similarly, the rocking function can help a nurse ease a patient gently back into the seating position.
Oh, and beyond that, the Nala's arms rotate outwards (like a backwards Aeron chair) which provides the healthcare professional with easier access to the patient.
God, I love new thinking…particularly when it is with the customer's needs in mind. Exciting.
If you are around Chicago this week, you should pop in to NeoCon to take a peek.
PS- You may also want to check out the Steelcase showroom. As always, there is some exciting stuff there too…and it is just beautiful.